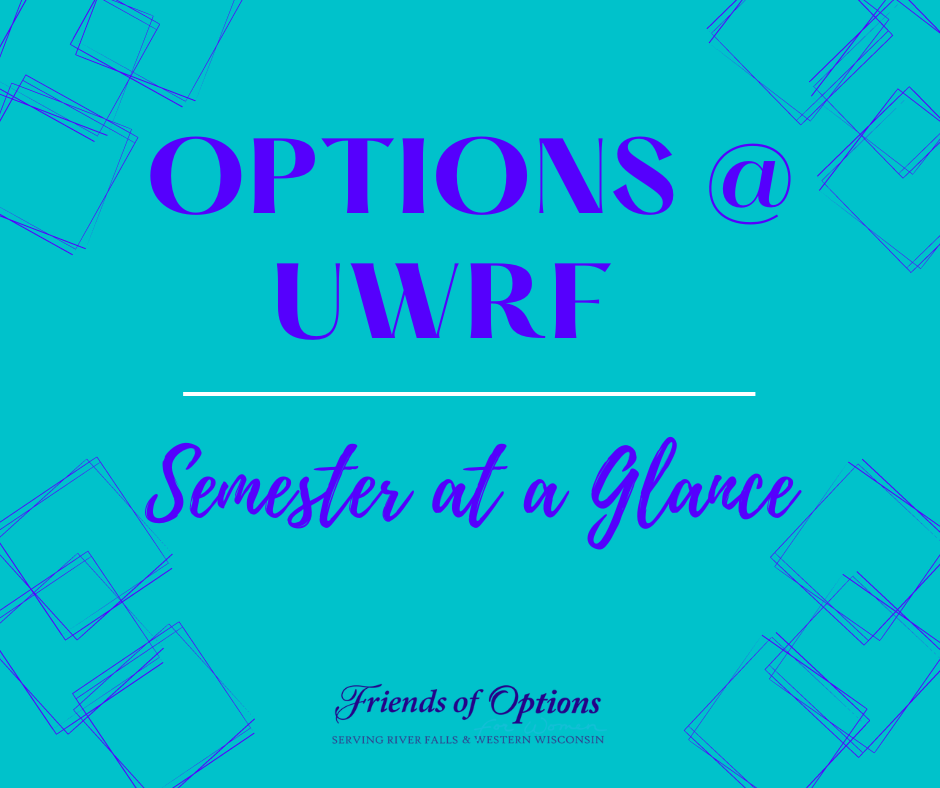 In 2021, the Options @ UW River Falls student organization was formed. Students in the organization work directly with the staff at Options for Women/River Falls, who act as active advisors to help with marketing, planning events, budget assistance, etc. It is a partnership designed and directed by the clinic…All with the goal of being "boots on the ground" right there with students at the University. The student club's mission statement zones in on their intentional commitment to be there to support pregnant / parenting fellow students on campus.
Twice each month during the academic year, an Options for Women staff member and the student organization members have a Tabling Event on campus. Right over the lunch rush hour, right outside the cafeteria – reaching the greatest number of students so they know exactly where to come if they need services and support!
Each month on campus also finds the Options @ UWRF group partnering with Options for Women to host a bigger exciting event. Here is the 2022 Spring Semester at a glance:
– February 2022 – Beauty and Value Event. On Valentine's Day, college guys from the student club worked with Options for Women staff and a special helper from Students for Life of America (national pro-life group). Everyone handed out white carnations with a card attached, "You have beauty and value; you are worth waiting for." 400 of these flowers and messages went out to young female college students in just two hours! A special thank you to Newman Campus Ministry for their donations which helped make this event possible.
– March 2022 – Identity, Purpose & Healthy Relationships. Special guest speaker Jen Messing focused students on understanding their personal story: who they are, why God created them, and how getting a solid grasp of these truths prepares them for amazing relationships.
– April 2022 – Human Rights & Fetal Development. Pro-life partner Students for Life of America brought a special display on fetal development to campus and gave students the opportunity to grapple with the question: At what point is a baby human and when do human rights begin?
We are very grateful for these opportunities to work with the students of Options @ UWRF as we partner with them to serve pregnant and parenting students on campus!